The Largest Motorcycle Run In The Pacific Northwest!
Anacortes, Washington
Come Early-Stay All Day!
(​Will update as soon as the 2015 flyer is available!)
2015 Oyster Run Shirts/Pins will be available on the Corner of 7th and Commercial the day of the run.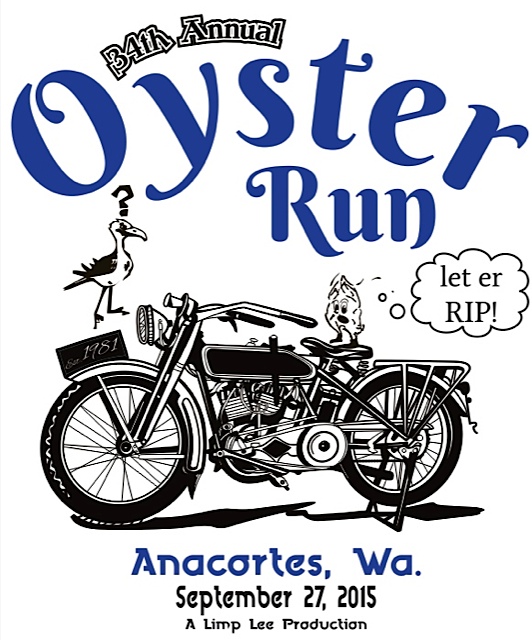 Don't want to stand in line the day of the run? Want to wear your 2015 Oyster Run shirt to the Oyster Run? T-Shirts and pins are available to order on line!
Order early from the comfort of home, you pick your color, style and size and they will be shipped to you!
(As of 8-17-15 Pins are not available yet but can be pre-ordered and shipped when they come in)
(Just click on link above.)
"Sometimes we forget that there are folks out there who have never experienced the Oyster Run, and they are not sure how it all works.
Due to the shear number of motorcyclist that attend the Oyster Run, we were forced to abandon any kind scheduled route many, many years ago!

How it works: Schedule your own route, pick a few "Oyster Run Biker Friendly" places along your way there, back or year round! For the full list go to: Biker Friendly

End up in beautiful downtown Anacortes Sunday Sept. 27th, 2015. Anytime between 8am - 6pm. (The City of Anacortes has been very generous to allow us the use of several blocks of their downtown streets for motorcycle parking, vendors, food, music, ect.) Get there early as it gets incredibly packed! Although there are no organized events until Sunday, a lot of folks come to stay in the area early and make a week end of it! Also don't forget to show your support to those who "Support the Oyster Run" year round! Without whom the Oyster Run could not happen! Sponsor/Supporters

This is a free event! No time schedule, No required route, No official starting point.
Pick your own route and Support Biker Friendly along the way!
We don't care what you ride, we don't care if you drive, walk or swim!
(9 months or 99 years old)
Everyone is welcome!
CLICK ON SPONSORS/SUPPORTERS & BIKER FRIENDLY PAGES FOR LINKS TO THOSE WHO SUPPORT THE OYSTER RUN!
Featuring : Music By The Unfaithful Servants* The Seattle Cossacks Motorcycle Drill Team* The Whidbey Island Rollergirls* Street Vendors* Food* Entertainment & All The Other Events In Beautiful Downtown Anacortes
"History of the Oyster Run"
It all started with a few guys getting together at the end of the summer to go for a ride and eat some oysters.
The year was 1981
Limp Lee had just returned from months of working in Alaska, He talked with a few guys and they all met at what was then the California Tavern in Marysville.
They then decided to ride along HWY 9, stop at some places along the way and end up in Edison to have oyster cocktails.
The next year a few more people joined in, the next year a few more, and by the fourth year there were almost 200 bikes. We couldn't believe it!
Well, as the years went by there were just too many people to have an organized run up hwy 9, so Limp Lee talked to the beautiful city of Anacortes about having the run there. I think at first the town was not sold on the idea, as they were not sure what to expect and most of the town closed up as the bikes rolled in. But soon more and more businesses stayed open and now the whole town has joined in..... and the rest is history.
As for how Limp Lee got his name, well that's another story!
"Ride at Your Own Risk, Please Ride Responsibly and Respectfully"